Double chamber vacuum packaging machines with high technological content, suitable for vacuum or modified atmosphere packaging of any type of food and non-food product.
The work surface consists of two loading areas. Once the product has been positioned in an area, the packaging cycle is started when the hood is closed. At the same time the product is positioned in the free loading area. In this, the operator will work in a continuous cycle, eliminating dead times, allowing a particularly efficient packaging process.
The DC820-870 is equipped with 4 x 820mm bars and, thanks to the wide range of optional equipment, can be optimally adapted to the specific customer requirements.
The control panel on the display is easy to use and allows you to memorize 10 work programs. The entire production cycle is controlled by a high-speed and precision microprocessor with ultra-vacuum function with "Twin Seal" or "Wide Seal" welding system that guarantees maximum packaging safety, and is supplied with plates for adjusting the height of welding.
Each model is equipped with a vacuum control system with an absolute sensor, extremely precise, reliable and that does not require calibration.
All DC series models seal in partial vacuum and high vacuum and are available with additional options such as ATM, soft-air technology for slow emptying, bi-active sealing and scrap cutting.
Remote adjustment and control interventions are possible by installing the TELESERVICE KIT with router for ETHERNET connection – Industry 4.0
The machine structure is completely in AISI 304 stainless steel and the electrical panel is in IP66 / NEMA 4 insulation class.
Specific use: For a wide variety of food and non-food products, in specific bags with different thicknesses, formats and materials including the latest generation "Eco-Friendly" ones.
What types of bags? Any (PA / PE – OPA / PP – Aluminum), for smooth or embossed vacuum, heat-shrinkable, in different thicknesses that can be easily managed by adjusting the sealing intensity standard on each model.

Vacuum Chamber and Sealing Bars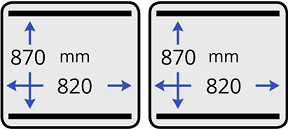 Sealing types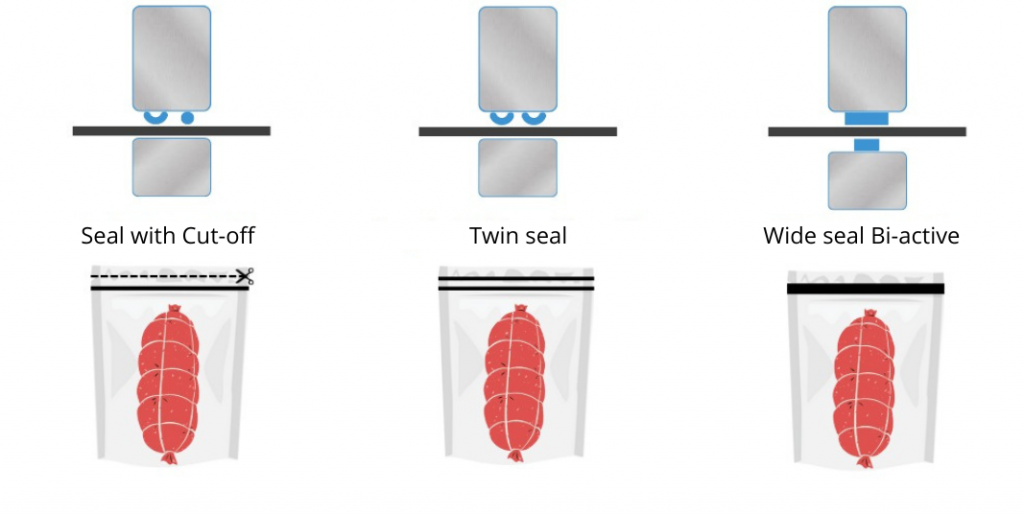 Technical Characteristics
| | |
| --- | --- |
| Structure | Stainless steel AISI 304 |
| Control Panel | Double digital display with vacuum sensor |
| Size (LxWxH) | 2030x1224x1547 mm |
| Weight | 720 kg |
| Vacuum chamber inner Size | 2 x 1010x1030x250 mm |
| Sealing bars | 4x 820 mm |
| Distance between sealing bars | 870 mm |
| Type of sealing | Monoactive, Twin Seal – Optional: Biactive or Cut-off Seal |
| Vacuum pump | 160 mc/h – Optional 250 mc/h |
| Final Vacuum Level | 1 mbar absolute |
| Electric supply | 400V – 3PH – 50Hz – 4,8KW |
| Pneumatic supply | 6/8 bar – dry and micro-filtered air |
| Gas (MAP) | Optional |

BMB in the constant search for improvement of production, reserves the right to modify the characteristics of its products,
therefore the data and images shown are indicative and not binding. All BMB machines comply with current European
regulations according to CE, EAC and EMV.