The automatic chamber belt vacuum packaging machine Conveyor MAP is a fast and versatile machine, conceived for a long service life. Designed for freshly oven baked products (pizza, piadina, crescia, pinsa), for fresh pasta and for other fresh products it automatically and continuously packs any other type of product, food or non-food, in bags for large batches.
The new Conveyor MAP is patented and unique. One-of-a-kind, it is the first automatic chamber belt vacuum machine with injection of inert gas directly into the bag, the real, effective and safe Protective Atmosphere.
The automatic feeding belt makes the loading process separate from the packaging process, therefore the positioning of the products on the infeed belt can take place during the vacuum cycle, manually or by automated loading systems such as robots or product handling belts.
The effective packaging that guarantees residual levels of O2 controllable even below 0,01 %* is now possible with an automatic vacuum machine that generates high vacuum and injects inert gas directly into the bag through one or more injectors in positions and in predetermined proportions depending on the type of product to pack and the shelf-life of the product to be obtained.
All that in a continuous cycle and with minimal labour.
During the cycle the product will be vacuum sealed and automatically evacuated from the machine. At the same time, a new batch of product can be placed on the belt by the same operator, ready for the next cycle.
The succession of cycles can be in this way continuous with the obvious and consequent suppression of the products loading dead times.
By this approach, the removal times of the packaged product from the working surface, typical of the manual chamber vacuum-machines, single or double, are also eliminated. The product can continue on a roller belt or a motorized belt for further operations on the packaging (metal detector, labelling, price-weight, etc.).
The 7,2″ touch-screen colour display control panel is user-friendly thanks to the HMI internally developed by BMB and allows you to store up to 99 working programs. The PLC manages all parameters with extreme speed and flexibility, while the Ethernet connection allows remote control of the working data as well as interfacing the machine with the company server systems.
The vacuum pump group is chosen according to the customer's technical needs, allowing the connection to centralized vacuum systems too. Each machine guarantees precise vacuum control thanks to its absolute sensor as standard.
The machine structure is completely in AISI 304 stainless steel with an easy cleaning system including quick release of the belt, automatic water drains and electrical panel in IP67 / NEMA 4 insulation class.
The Conveyor MAP is available with additional options such as soft-air technology for controlled air re-entry, sealing bar adjustment systems to seal products of different sizes, "Twin Seal" or "Wide Seal" bi-active sealing and others.
Specific use: Ideal for freshly oven baked products (pizza, piadina, crescia, pinsa), for fresh pasta, for other fresh products and for a wide variety of food and non-food products, in specific bags with different thicknesses, formats and materials including the latest generation "Eco-Friendly" ones.
What types of bags? Any (PA / PE – OPA / PP – Aluminium), for smooth or embossed vacuum, heat-shrinkable, in different thicknesses that can be easily managed by adjusting the sealing intensity standard on each model.
The steps of the packaging process with a vacuum chamber packaging machine.
Vacuum Chamber and Sealing Bars
Vacuum Chamber + MAP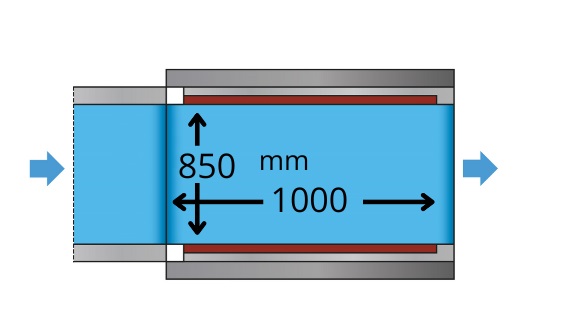 Sealing types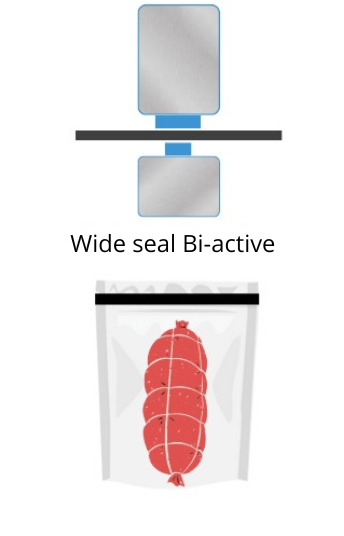 Technical Characteristics
| | |
| --- | --- |
| Structure | Stainless steel AISI 304 |
| Control Panel | 7,2″ PLC Touch Screen |
| Size (LxWxH) | 3060x1560x1630 mm |
| Weight | 500 kg |
| Vacuum chamber inner Size | 1110×1010 mm |
| Useful lid height | 115 mm ( 65 mm with fillers) |
| Sealing bars | 2 x 1000 mm |
| Distance between sealing bars | 850 mm |
| Type of sealing | Bi-active wide seal. |
| Belt conveyor speed | Adjustable, up to 30 m/min |
| Vacuum pump | 1 x 300 mc/h (5,5 KW) |
| Final Vacuum Level | 1 mbar absolute |
| Electric supply | 400V – 3PH + N + PE – 50Hz – 3KW (without pump) |
| Pneumatic supply | 6/8 bar – dried and microfiltered air |
| Air consumption | 60 Nl/cycle |
| Speed* | 3 cycle/min |
| Optional | Please ask for info |
*depending on product, final vacuum level and vacuum pump

BMB in the constant search for improvement of production, reserves the right to modify the characteristics of its products,
therefore the data and images shown are indicative and not binding. All BMB machines comply with current European
regulations according to CE, EAC and EMV.