High-tech chamber vacuum packaging machine, ideal for vacuum or modified atmosphere packaging of any type of food or non-food product. SC1200 XXL is the stand-alone machine recognized in the world for its large vacuum chamber, therefore it represents the ideal solution for the packaging of long or large products.
This machine can be equipped with sealing bars in different positions, with the "Twin Seal" or "Wide Seal" sealing system which guarantees maximum packaging safety, and is supplied with plates for adjusting the sealing height.
The control panel on the display is easy to use and allows you to memorize 10 work programs. The entire production cycle is controlled by a high speed and precision microprocessor. Each model is equipped with a vacuum control system with an absolute sensor, extremely precise, reliable and that does not require calibration.
All models of the SC series seal in vacuum and partial vacuum and are available with additional options such as ATM, soft-air technology for progressive air return, and scrap cutting.
The machine structure is completely in AISI 304 stainless steel and the electrical panel is in IP66 / NEMA 4 insulation class.
Specific use: For a wide variety of food and non-food products, in specific bags with different thicknesses, formats and materials including the latest generation "Eco-Friendly" ones.
What types of bags? Any (PA / PE – OPA / PP – Aluminum), for smooth or embossed vacuum, heat-shrinkable, in different thicknesses that can be easily managed by adjusting the sealing intensity standard on each model.
Vacuum Chamber and Sealing Bars
Sealing types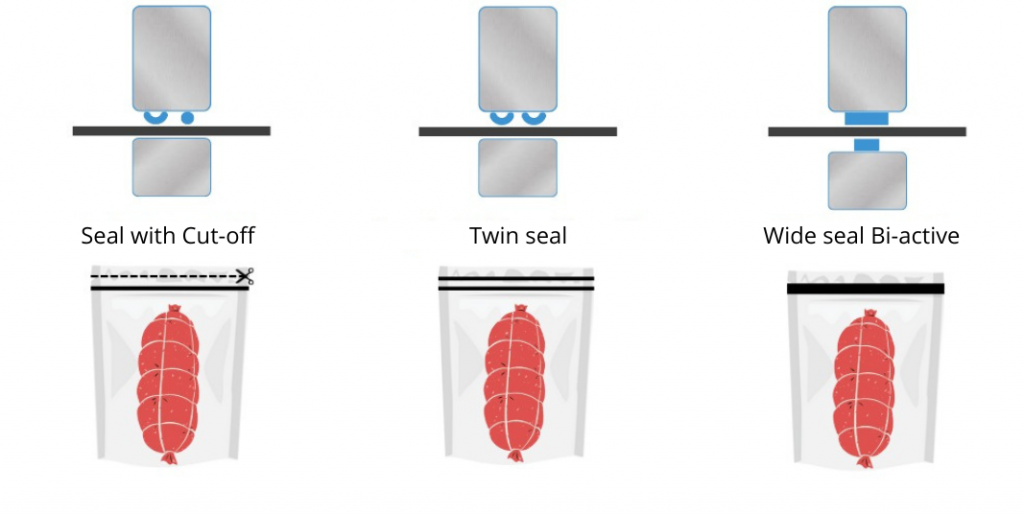 Technical Characteristics
| | |
| --- | --- |
| Structure | Stainless steel AISI 304 |
| Control Panel | Double digital display with vacuum sensor |
| Size (LxWxH) | 1500x1267x1795 (with raised chamber) mm |
| Weight | 600 kg |
| Vacuum chamber inner Size | 1354x919x270 mm |
| Sealing bars | configurable, see sealing bars sheet |
| Type of sealing | Monoactive or biactive. Twin seal |
| Vacuum pump | 200 mc/h – Optional: 300 mc/h |
| Final Vacuum Level | 1 mbar absolute |
| Electric supply | 400V – 3PH – 50Hz – 5,5KW |
| Pneumatic supply | 6/8 bar – dry and micro-filtered air |
| Gas (MAP) | Optional |

BMB in the constant search for improvement of production, reserves the right to modify the characteristics of its products,
therefore the data and images shown are indicative and not binding. All BMB machines comply with current European
regulations according to CE, EAC and EMV.